The Criminal Investigations Department (CID) of the Ghana Police Service has extended an invitation to the Tamale Central MP for questioning.
Inusah Fuseini is being invited over some pronouncement he allegedly made on Pan African Television.
He is alleged to have said, "I have said and I have advocated that the National Democratic Congress (NDC) flagbearer, John Dramani Mahama and former President of the Republic of Ghana declare himself President and forms a parallel government."
In a letter addressed to the Speaker of Parliament, the CID's Director-General, COP Isaac Ken Yeboah stated that the police is probing the case and will need the Tamale Central legislator to assist in investigations.
"It would be appreciated if you could release the aforementioned Member of Parliament to report to the Director of Operations' CID at the CID Headquaters, second floor, Room two on Thursday, December 24, at 10 am to assist in invetsigations," the letter read.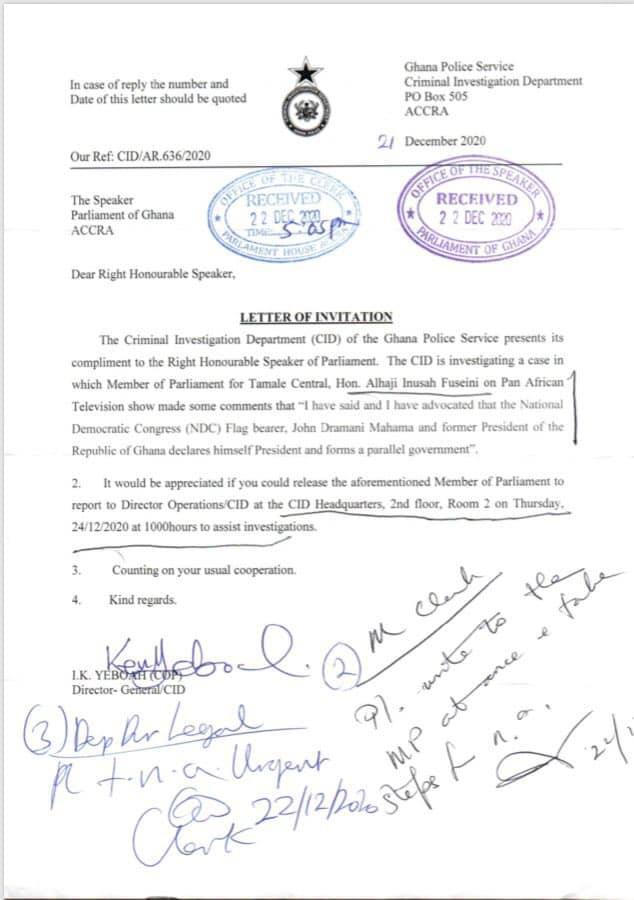 Meanwhile, the Tamale South legislator has confirmed that he has received the notice and will honour the invitation.
Following the declaration of the 2020 presidential elections in favour of the New Patriotic Party's Nana Akufo-Addo, the NDC has sternly kicked against the result claiming they have been cheated.
The leaders of the party, however, are yet to confirm if they would seek a legal redress.
But, currently, they have taken to the streets across the country to drum home their displeasure.