The issue about the former president, John Evans Fiifi Atta Mills, turning a castle into a small prayer camp has popped online again. This time around, it took a different turn as a senior lecturer at the University of Ghana, Professor Ransford Gyampo dropped some revelations and also sent some messages to President Akufo Addo about the National Cathedral.
The lecturer revealed to the government that the NDC, under John Atta Mills' administration was mocked because of what the president wanted to use the castle for. Prof. Ransford Gyampo worry here is that the Akufo Addo-led administration is also doing the same thing but theirs seems bigger.
According to Prof. Ransford Gyampo, the president is trying to turn the whole country into a big Prayer Camp. The question is, How is the president going to turn the country into a prayer camp?
Well, it's simple. Prof. Ransford Gyampo revealed that the construction of the National Cathedral is the way to turn the whole country into a big prayer camp. He sent a bold message to President Akufo Addo to avoid making this project a priority.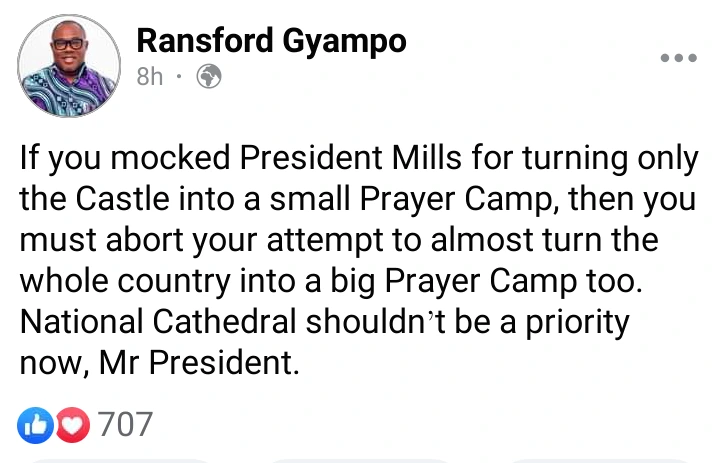 The whole issue of the National Cathedral emerged when President Akufo Addo revealed that he has made a promise to God that he will build Him a Cathedral if he(Akufo Addo) wins the 2020 elections. The president won in 2020 and continued to be the president of Ghana for his second term.
The project has started but it is still at the ground development stage. Several funds have already been used including the architectural designs. The government of Ghana supported this project with seed money.
This project is not supposed to be funded by the government. For this reason, churches and other religious entities have been contacted to contribute to building this cathedral.
Several criticisms were sent to the government because of the money they spent on the project despite promising Ghanaians that no public funds would be used.