Kwame Asare Obeng popularly known as A Plus has commented that the chiefs and youth of Kumasi are silent over Aisha Huang's arrest after destroying their lands but condemned Odike for speaking against galamsey.
In a post shared on his official Facebook page on Facebook, he wrote;
"Odike said galamsey is destroying the future of the youth and some young people vandalized his property and threatened to k!ll him for making that comment.
The chiefs and elders of the "future destroyed youth" association also banished him and even closed down the radio station where he made his comment.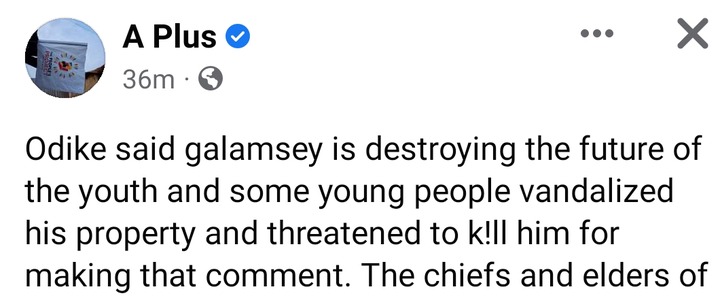 Aisha Huang has been arrested for destroying the future of the youth but the youth and chiefs of Kumasi are quiet."
A Plus advised people to be careful of whom they fight for because somebody's future is not your future.
Background
Aisha Huang, the 'galamsey kingpin' who was deported in 2019 is back in Ghana and has been re-arrested for engaging in illegal mining.
Following that, many people have added their voices asking about how she was able to sneak into Ghana again after being deported.
A few weeks ago, Odike incurred the wrath of the Ashanti Traditional Council for blaming them that, they have done nothing about the galamsey in the Ashanti region. He also said that he will mobilize the youth to demonstrate against the chiefs if they don't do anything about their lands being destroyed by galamsey.