The Executive Director of Africa Educational Watch (EduWatch) has lamented that the Ministry of Finance will soon release money for the teacher trainees' food crisis whilst funds for running district education remain in arrears.
In a post shared on his official Facebook page on Tuesday, 1st November he cited a letter by the Principals of Colleges of Education (PRINCOF) surreptitiously asking the Minister of Education to provide food for hungry adults in a year government could not find money to feed the additional 600,000 basic school children as announced in the 2022 Budget under the Ghana School Feeding Programme.
Kofi Asare lamented that funds for running District and Regional Education Offices, including cash for buying stationery, and fuel for monitoring and supervising basic education delivery in schools are in arrears since March 2022 because there is no cash. Some districts have received only 7% of the total annual allocation.  
The Capitation Grant is used for managing public basic schools in arrears of several tranches exceeding a year. Some school heads borrow money from susu collectors to manage schools.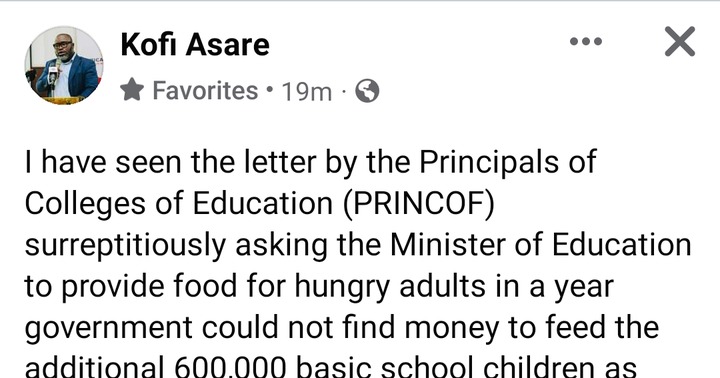 "But because feeding teacher trainees is a government flagship political promise unlike basic education, trust the Ministry of Finance to find cash immediately to pay for the Adult Teacher Trainees' food, after which the letter of transfer will be advertised to the whole world by the Ministry of Education as a major achievement. This has been the trend since 2018." He added.
He continued that, at the end of the day, the very stakeholders who are supervising or silently witnessing this very situation will hold a conference to inquire about the falling standards in basic schools.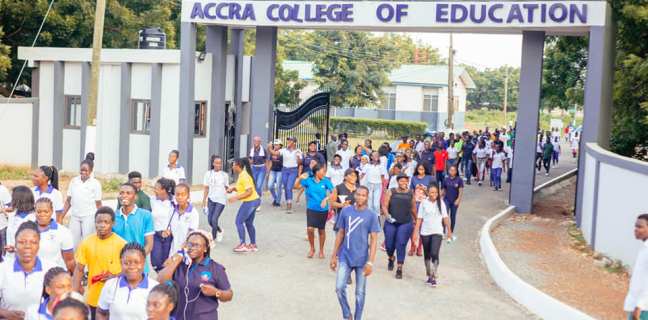 Yet, when I complain or plead with the government to release GoG funds (in arrears) for managing basic schools and district/regional education offices, some worry I am making the government unpopular.