Ghana's president Nana Akufo Addo has announced that Ghana will soon get a Tractor Assembling Plant in the country. In Ghana, about 52 percent of the labor force is engaged in agriculture, 29 percent is in services, and 19 are in industries.
So agriculture is an important contributor to Ghana's export earnings and it is also a major source of inputs in the manufacturing sector of the country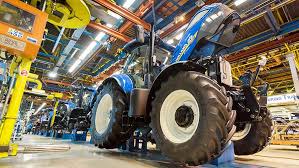 Again it is also a major source of income for most of the Ghanaian population. But over the last decade, the size of the agriculture sector in Ghana has reduced and I'll tell you why.
In 2009 Ghana's agriculture sector contributed 31.8 percent of the country's Gross Domestic Product (GDP) and in 2019 it reduced to just 17.32 percent.
In 2021 which is just last year agriculture contributed 19.71 percent to the country's GDP. So compared to that of 2019 and 2020 there was an increase and according to president Akufo Addo, Ghana saw an increase in food output in 2021 because of the planting for food and job initiatives they introduced in 2017.
Though the country saw an increase in food output in 2021. But the truth is that the country's agricultural sector now has been reduced drastically as compared to a decade ago.
Even though there have been a lot of government interventions in the agricultural sector such as the planting for food and jobs and the main causes of this is the climate change and lack of fertilizers.
This map represents the arable land percent of the world and according to the Food And Agriculture Organisation of the United Nations, Africa alone has 52 percent of the world's arable land. But we still import food from other parts of the world.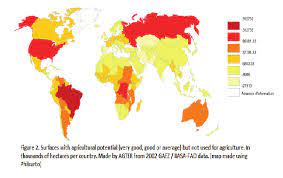 Meaning we are not utilizing the full potential of our arable land on our continent. This is all because most farmers in Africa are still using the traditional way of farming.
But Ghana is changing that and I will tell you why. In Ghana, every first Friday of the month of December is marked as an official Farmers Day Celebration. So this year's, Farmers Day was Ghana's 38th Farmers Day Celebration and the theme for it was accelerating agricultural development through value addition. 
Meaning factories in Ghana are about to work in 2023 because they are going to add value to everything farmers are going to produce.
So the president of Ghana took advantage of this year's Farmers Day celebration to announce to Ghanaians some modernized measures taken by his government.
Which to him is important for the development of the country, especially in the agricultural sector. Which includes a Greenhouse Farm training school, irrigation for all-year-round farming, a warehouse for food storage, and mechanized agriculture. This will also come with the establishment of tractor assembly plants in the country.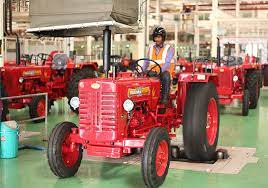 "To accelerate the process of agricultural modernization. My government threw various bilateral arrangements as important assaults.
Agricultural machinery including tractors, power tillers, planters, freshers, combine harvesters, and handheld equipment for smallholder farmers and a total value of 67 million United States dollars.
These farm equipment and machinery are being sold in subsidized ways to farmers and other investors currently. I'm happy to report the processes have been concluded toward the establishment of a Tractor Assembly Plant in Ghana. This will go a long way to reduce the cost of practice, improve access to character paths and create jobs". The president expressed.